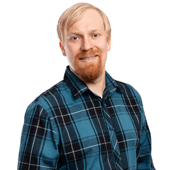 Timo Nikkanen
Systems Engineer – Technology and Engineering
I've been involved from the start in designing, building, testing, licensing and successfully launching the first three Kuva Space satellites: Reaktor Hello World, W-Cube and Sunstorm. It has been a great journey to see the initial ideas become prototype engineering designs, improved and in the end work successfully as part of the satellites flown to space.
My tasks revolve around general spacecraft systems design, electronics, materials, quality and satellite frequency management etc.

I enjoy solving engineering problems within a supportive team of individuals having their own skills and personalities. Good work is achieved by aiming towards a common goal and evaluating together what is the best way to achieve the objective on system level, while paying sufficient attention to details.